Three Weeks of Childhood
July 25, 2008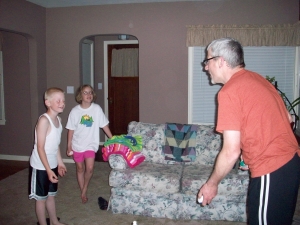 For three weeks, we had the joy and excitement of childhood … all without the use of regression therapy. It was certainly fun – and definitely educational! Five nieces and nephews spent time with us while attending Cougar Kids Camp at WSU. They attended camp during the day then stayed with us in the evening.

The first week saw Felicity (age 11) and Haden (age 9) visiting for "Red, White, and Blue" week at camp. We picked them up on a Sunday morning and brought them to our house. As soon as they arrived, they rushed upstairs to pick their bedrooms then spent a bit of time getting their rooms "just right" before finally coming down to visit with us. Haden was adamant about helping with some gardening tasks while Felicity helped to make dinner and some homemade granola bars.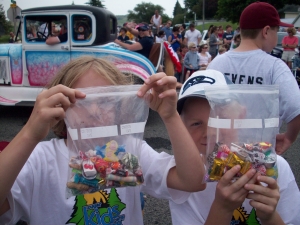 During Felicity and Haden's visit, they gave us a lesson on our rollerblades (we needed to learn an alternative way to stop, as the only one we really knew was the falling down method). To repay them for imparting their wisdom on us, Paul gave them a lesson in juggling and the history of the Yo-Yo – and even taught them to whistle with a blade of grass.

The first week of camp was only four days long, as there was no camp for the 4th of July. On that day, we took the kids to the Johnson Parade where they pounced on the large amounts of candy being thrown by parade participants. Then it was off for a picnic lunch and a visit to the WSU Bear Center in Pullman before we took them back to Cle Elum. We ended the week with a quick stop to see the Wild Horses Monument at Vantage on the way home.

We spent the rest of the weekend in Cle Elum visiting with Frances' folks and participating in the 29th annual Runner Stumbles race (10K) before picking up the second round of kids, Ivanna and Cassandra (both 10 years old). We broke up the four-hour drive with a picnic lunch at the Wild Horses (where Cassandra named each of the iron beasts) and another stop in Moses Lake to get some
groceries for the week. Unlike their cousins the week before who insisted on separate rooms, they were both quick to decide on sharing a bedroom – likely so that they could sing and giggle together after they were sent to bed!

The girls' themed week was "Around the World" where they were given the opportunity to learn games and sports from different cultures, meet with Chinese exchange students who taught them to write their names with Chinese characters, learn some basic martial arts moves, and do some origami. In the evenings they read (a lot!), played with magnetic sculptures, and took short excursions to the park. The girls were so independent that we were nearly superfluous! Their biggest concern seemed to be that they were being well-enough behaved to have a movie and junk food night at the end of the week.

On the Saturday, we took them to the farmers market in Moscow, Idaho, where they played on the jungle-gym equipment while listening to a band play before heading to the Appaloosa Museum. At the museum the girls got the chance to see two Appaloosas kept on the grounds, but seemed slightly more interested in the "rescue" dog that the museum's docent had brought
in. After leaving the museum we had a picnic lunch (bought at McDonalds) on the WSU campus before seeing the grizzly bears and heading home. They had earned their movie and junk food night …

We woke early the next morning so that we could return the girls to their moms who were meeting us in Moses Lake with Felicity and Haden, who were coming for a second week, along with their cousin, Adrian (age 9). When we got the three of them in the car, we started to realize just how nice the week before had been when the girls ignored us in favor of reading their books any time we were in the car …

Arriving back at the house, Felicity re-claimed "her" room while Haden and Adrian decided to bunk together. Was this because the boys wanted to share a room or was it because they didn't want the room with the twin-sized bed downstairs – we'll never really know. Once they were settled in we took a quick trip to town to see the grizzly bears (again) and get some groceries for hungry little kids. Then it was time to have dinner and relax before a busy week of "Mini Cougars" in Pullman.

Three kids was certainly more of a challenge, especially when they were cramped in the back seat of our "normal" sized car, as opposed to the SUVs they are accustomed to sitting in. But it was a fun week that included a few trips to the local park and an afternoon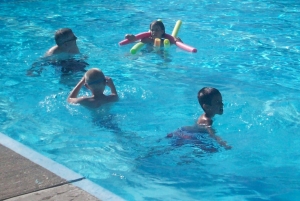 at the local swimming pool. We topped off the week with a showing of "Garfield" where they had a junk food picnic on the living room floor while giggling at the antics of Garfield and his friends.

After three weeks of kids running around the house, we got several little lessons in parenthood. We learned that the tooth fairy brings a whole $2 for a tooth; kids don't eat the same amount of food as grownups; if you don't remind them to put on clean socks and underwear, they might not do it; and, most importantly, we learned that kids are great fun! While we are reveling in the peace and quiet that's settled on our house once again, we are also looking forward to filling the place with kids of our own one of these days …


Check out more photos here.