We Want a Shrubbery!
April 10, 2008
Frances' folks are pretty adamant that they are not fans of Pythonesqe humor. But that didn't stop their weekend request for a shrubbery. You could almost hear the Knights of Ni: "First you must find ... another shrubbery! Then, when you have found the shrubbery, you must place it here, beside this shrubbery, only slightly higher so you get a two layer effect with a little path running down the middle. Then, you must cut down the mightiest tree in the forest ... with ... a herring!"

We knew before heading to Cle Elum last weekend that we were being put to work digging holes and planting trees, and we were truly looking forward to the work. Of course, when we agreed to help out, we were expecting trees in buckets, as tall as three feet or so. What we found were little twigs with bare roots. Which was a nice treat because it meant the holes didn't need to be as big!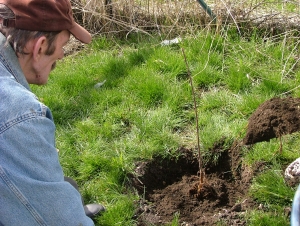 By late morning, we were ready to get planting. Frances' Dad got the trees ready by soaking the roots while her Mom helped to determine what trees to plant where. Paul and Frances got the fun chore of digging the holes. The folks helped with planting and, of course, will spend the next few months tending to them to make sure they grow.


So, what did we plant, exactly? Three choke cherry trees were planted in the back yard, near the existing sweet cherry tree (which will be felled once the choke cherries take off); three currant bushes were planted on the north side of the house along the north-south fence line; two service berry bushes were planted – one near the SE corner of the yard, the other near the NE corner; and five rose bushes were placed in an "arc" along the SE corner, to start the formation of a corner garden.

We think that the Knights would have been happy with our attempt at a shrubbery and they'd have allowed us to pass …