A Christmas Update
December 2006
To Our Dear Family and Friends,

2006 has been a year of exciting changes and challenges for both of us; while Paul continues to adjust to the "American" way of life, Frances' career advancement has moved in both direction and location. We've undoubtedly been blessed over the past year, and while we can't claim wealth, we can certainly claim health and happiness.

January saw the arrival of Paul's "Green Card," bestowing upon him permanent resident status and the right to legally work. However, he can't vote yet as that privilege comes with citizenship – he has to wait another two years before applying for that.

January also found us spending a long-weekend in Port Townsend, along the Washington Peninsula. It was a bit chilly and blustery while walking along the shore, but the fresh sea air and quiet beaches made it worthwhile.

With February came Valentine's Day and chocolate overload, March saw us enjoying green beer in celebration of St. Patrick's Day, and April found us once again filled with chocolate in the form of Bunnies and Eggs. You can probably imagine that we were watching the scales climb a bit during those months, too!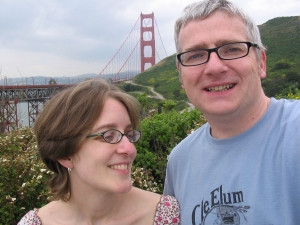 To celebrate our first wedding anniversary in May, we took a trip to San Francisco. While there, we got to see one of our favorite bands, The Saw Doctors, perform live. It was to one of their songs that we enjoyed our "First Dance" at our wedding. Speaking of our wedding, a year on and we finally got to eat the top layer of our wedding cake, which had spent the previous twelve months in various freezers. We also managed to do some "regular" tourist activities: we rode the trolleys and cable cars; ate sourdough bread at Fisherman's Wharf; we even rented bikes and rode across the Golden Gate Bridge and back.

On our return from San Francisco, Frances decided it was time for a change of jobs, and left the world of corporate marketing. It wasn't long until her gamble paid off and she was offered a public relations and communications position with the Washington State University College of Business in Pullman, Washington, which began in July. The weeks to follow were spent visiting Pullman to find a place to live, packing for the 300-mile cross-state move, and stressing out over the whole ordeal.

Paul received the "Holy Grail" of government-issued documents when he passed his driving test in July. Credit for this achievement must be given mostly to Frances, who managed to pass on her knowledge and constructive criticism to a mostly receptive husband. Of course, being taught by Frances means Paul now also drives like an old lady!

August found us settled into our new apartment, a temporary home until we purchase our first house (hopefully before we celebrate our 25th Anniversary!). It also found us running our first 5k in the National Lentil Festival's "Tase T. Lentil Fun Run/Walk" (yes, our new hometown plays host to this auspicious event). Well, to be honest, he ran and she walked. None the less, we got great free t-shirts for our efforts! Paul also ran around Green Lake in September for the PKD Walk in Seattle (just shy of 5k).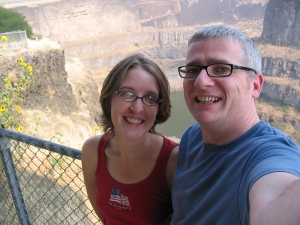 The autumn (or rather, fall) months found us exploring our new surroundings, including the City of Spokane; Moscow, Idaho; and the more peaceful Palouse Falls. It also found us back in Seattle for a Billy Bragg concert; and visiting Frances' parents in Cle Elum where her Mom was recovering from a successful kidney transplant.

As the winter signals the coming end of 2006, we are already looking forward to 2007, when we will check out some of the great American National Parks, and are planning on visiting family and friends in the U.K.

We hope that the past year has been good to you, and that the year to come brings you all of the joy and happiness you deserve.

With love, Paul and Frances