Partners in Phun
February 8, 2010
It's been another fun weekend at the Ryan House, only without the big crowds this time! It started with me waking way too early on a Saturday morning so that I could make the two-hour drive to Moses Lake to pick up my 10-year-old nephew, Haden. We had a busy weekend of fun ahead of us, so it was worth the early start!

While the fun began in the car with excited conversations about the weekend's activities, the real fun began when we arrived at the theatre in Pullman to watch Avatar in 3D. It was the first time either of us had seen a 3D movie and we were very impressed with the effects. Of course, the great thing about movies is the popcorn and candy; both are necessities! After the movie we stopped off for some soda and ice cream and a take-n-bake pizza from the Garfield Café. Because, after all, good healthy junk food was all part of the fun weekend plans!


When we got home, Haden got settled into his room before entertaining Schrodie for a bit. Schrodie's first reaction to a child in the house seemed to be fear, after having so many around two weeks before, but once she realized there was just one this time, she was more than happy to come out and play. And more than happy to enjoy the treats that Haden gave her.

After playing with the cat a bit, it was time to get our jammies on and our race gear ready for the morning. Once that was done, Haden set up the Monopoly game and I got the pizza started. (The pizza that Haden paid for with so much pride!) We then enjoyed a showing of the Apple Dumpling Gang while pigging out and playing Monopoly before turning in for an early night.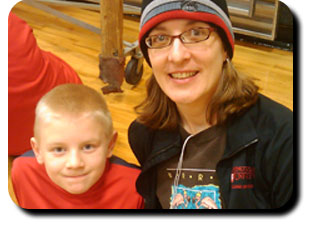 On Sunday morning we woke up bright and early, excited for the fun of the day's race. After a hearty breakfast we got in the car and made the trip to Spokane for the Partners in Pain 5K. It was Haden's second race and he was already starting to feel like a pro. At the end of the race he won a new Brooks running hat and two entries into the 2010 Spokane 10K on 10.10.10. He is truly looking forward to October now!

Once all the awards were given out, we headed to the car so that I could take him back to his Mom. Poor Haden spent nearly 10 hours in the car in less than 48 hours, all for a 30-minute fun-run. But if you ask him if it was worth it, you'll get a resounding YES! I think we've got a runner on our hands…

Check out more photos from our phun weekend here.