In Memoriam: Paul James Ryan
April 26, 2009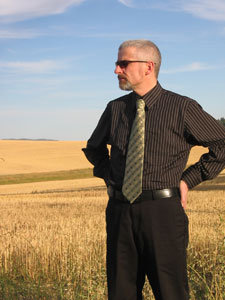 Paul James Ryan, 47, died Sunday, April 26, 2009, at his home in Garfield, Washington. He was born on November 27, 1961, in Billingham, England, and met his wife, Frances, in 2002 whilst they were both living in Edinburgh, Scotland. Paul immigrated to America in April 2005 where he and Frances married on May 21, 2005, in Cle Elum, Wash.

Paul was raised in Billingham where he was schooled and taught valuable lessons on life. In 1983 he left home to study in Scotland, where he lived for 22 years. After receiving a diploma from Newbattle Abbey College, he went on to gain a degree from the University of Edinburgh, and then acquired a post-graduate diploma from Napier University.

He built a career in retail tourism working for Guide Friday, Camera Obscura, Edinburgh Castle, and ultimately Whigmaleeries Limited, where he served as the area manager. It was in Whigmaleeries that he first met Frances in February 2002. They later married in Cle Elum, Wash., and settled in Garfield, Wash.

Paul was an active runner and was training for his first marathon before his passing. He enjoyed traveling, riding bikes, reading, and juggling. Paul was a loving husband, a treasured brother, and a trusted friend. He brought joy to everyone who met him and will truly be missed by all.


Paul was preceded in death by his parents, Michael and Evangeline Ryan. He is survived by his wife, Frances; brothers Michael (Liz) and John (Claire); sisters Ann (Mick) and Elizabeth; 17 nieces and nephews (aged 5-39); and one great nephew (aged five).

Funeral services were held at St. John the Baptist Catholic Church in Cle Elum followed by grave-side services at Laurel Hill Memorial Park in Cle Elum. A second service will be held at Our Lady of the Most Holy Rosary Church in Billingham, England, with grave-side services at St. Peter's Church in Wolviston, England.

A memorial scholarship has been set up in Paul's name at the Washington State University College of Business. Donations in his name may be sent to WSU College of Business; PO Box 64487; Pullman, WA 99164-4847.